What is Think Dirty?
Created by Lily Tse, Think Dirty was born from an intimate experience with cancer. Tse invented the app to act as a resource with accurate information about the toxic chemicals added to many U.S. cosmetics.
"There are hormone disruptor chemicals in many products that have been possibly linked to breast cancer," Tse wrote. "I was shocked the cosmetics industry was not regulated like the food and drug sectors."
The mobile app launched in summer 2013 with more than 68,300 products listed. Though manufacturers have the freedom to use tags like "all-natural" and "organic" at will, the app sends a message about changing consumer preference while simultaneously calling for more transparent labeling of cosmetics.
"Think Dirty® empowers and educates the consumer on the cosmetics industry by allowing them to make an informed decision on what products to purchase," according to the website.
Johnson's Baby Powder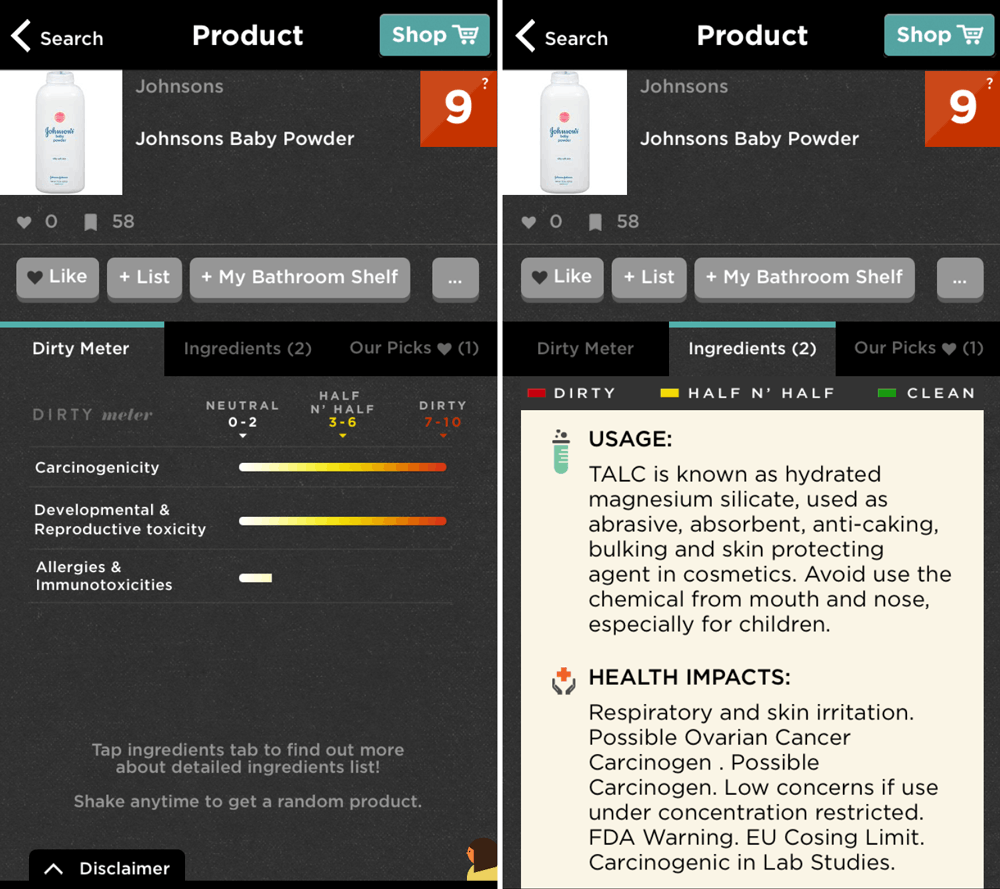 The Think Dirty scale rates products from 0 to 10, with 0-2 listed as neutral, 3-6 as half 'n' half and 7-10 as dirty. The app lists Johnson's Baby Powder as a 9 because it contains two carcinogenic products: fragrance and talcum.
Fragrance, which could be an unknown "combination of nearly 3000 fragrant ingredients," is a hormone disruptor and allergen. There is no clear policy on using synthetic or all-natural fragrance. The Canadian Center for Occupational Health and Safety and Health Canada Consumer Product Safety have issued safety warnings about the dangers of fragrant inclusion.
Talcum is an absorbent agent used in makeup and everyday hygiene products. The bulking ingredient has been linked to respiratory problems, skin irritation, and ovarian cancer. Talcum, which is banned in the European Union, has become the center of an emerging U.S. cosmetics controversy.
Johnson & Johnson has been selling talcum-based Baby Powder products for nearly 100 years. Decades-old studies and a growing number of lawsuits show that the manufacturer knew that talc increased the risk of ovarian cancer.