Essure Pulled from International Markets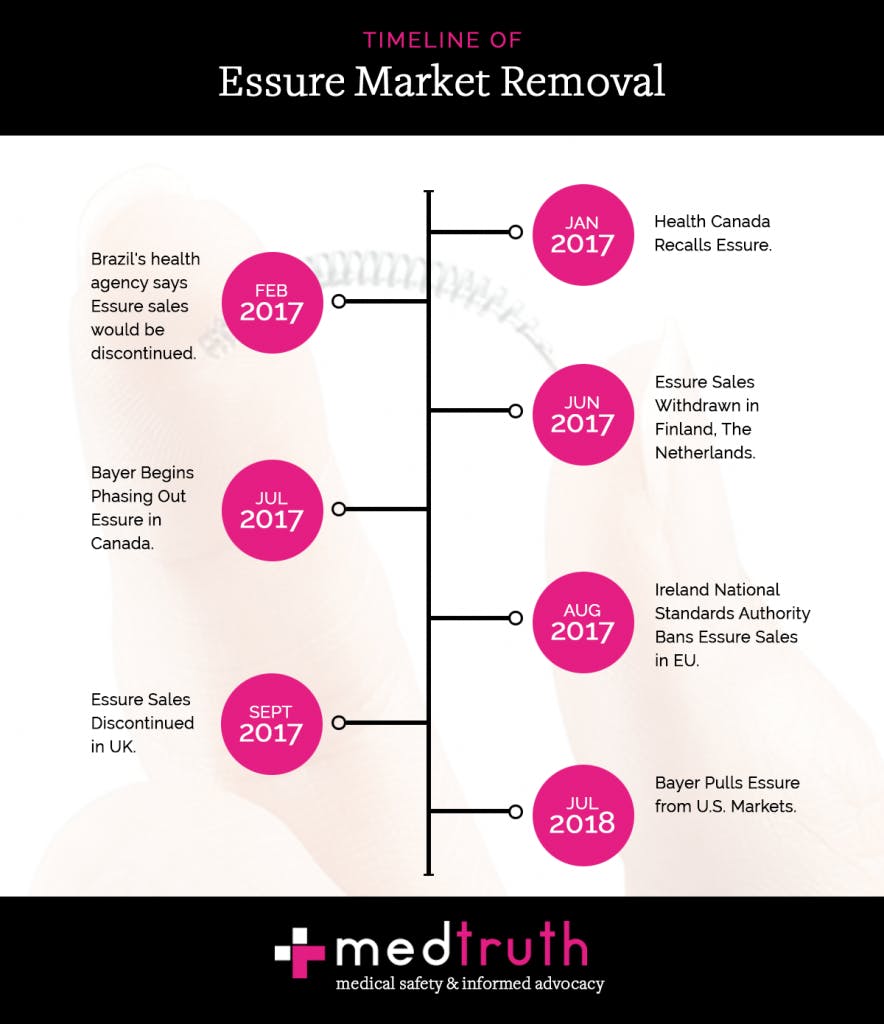 Canada was the first to recall Essure in January 2017, followed by Brazil, The Netherlands, Ireland, the UK, and eventually the U.S. Bayer decided to remove the device from the market as there was a decline in sales, though they still told the Washington Post that women "confidently" rely on it.
Removing the device from the market in the U.S. is due to "commercial reasons," with their sales dropping 40 percent in recent years. For other countries around the globe, Bayer cited similar reasons as to why they were removing it from the market: a decrease in sales and change in patient demand.
Health Canada stated that patients were not "adequately informed" of the risks and damage that the Essure could possibly cause to the body.
However, Bayer says that "inaccurate and misleading publicity" contributed to the drop in sales, not the serious and very real concerns that women are experiencing. The Bayer deputy director, Courtney Mallon told SELF, "this is purely a business decision—not a recall—due to declining sales over the past several years. Bayer will discontinue sales/distribution of Essure at the end of this year, and women who are interested in Essure as their contraception of choice will be able to receive the procedure through the end of 2019."
Essure Side Effects, Discontinued from U.S. Markets
Although the company claims that the benefits outweigh the risks, in 2016 the FDA required that they implement a product label with a serious warning and a three-page checklist for doctors to discuss with patients beforehand. Moreover, the removal of the device is also accompanied by various risks and is difficult to successfully remove. The coils are fragile and break apart in the fallopian tube. The result, many times, is a full hysterectomy.
Side effects include migraines, extreme fatigue, hair loss, bleeding, pelvic pain, allergic reactions, autoimmune issues, and several other concerns. Unintended pregnancies have been another issue, with 631 reports of pregnancy while on Essure. The device has been linked to "the death of four women" and "nearly 300 unborn children."
Two days before the release of the film, The Bleeding Edge, which features the heartbreaking story of women living with intense chronic pain, Bayer announced that it would be removing the device from the market. There are over 16,000 lawsuits that claim that Essure caused harm and serious complications, as well as Facebook groups for people living with side effects.
The film, the action of public figures, and the brave women living with the deficits have proven that change can happen on a grassroots level, starting on Facebook and traversing the scope to the wider public. While it is disturbing to know that women can still be implanted with the device until the end of the year, it is a consolation to know that soon it will be the end of an Essure era.